North American Woodcock Singing-ground Survey State/Provincial Coordinators
---
Please click on your state or province to locate the corresponding coordinator.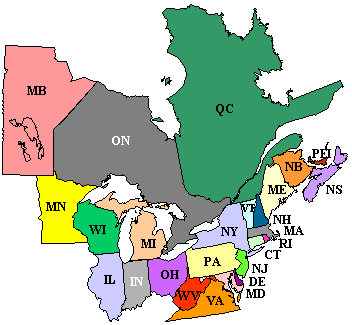 Connecticut
Min Huang
Connecticut DEP-Wildlife Division
Franklin WMA 391 Route 32
North Franklin, CT 06254
voice mail: (860) 642-6528
min.huang@ct.gov
Delaware
Adam Macy
Environmental Scientist III, Waterfowl & Turkey Biologist
DE Division of Fish and Wildlife
6180 Hay Point Landing Rd
Smyrna, DE 19977
voice mail: (302) 735-8682
gary.macy@delaware.gov
Illinois
Ben Williams
Urban Waterfowl Project Manager
Illinois Department of Natural Resources, Region 2 Office
James Pate Philip State Park, 2050 West Stearns Road
Bartlett, IL 60103
voice mail: (847) 608-3177
ben.williams@illinois.gov
Indiana
Adam Phelps
IN Division of Fish & Wildlife
5596 E. State Road 46
Bloomington, IN 47401
voice mail: (812) 822-3306
aphelps@dnr.in.gov
Maine
Maurry Mills
USFWS/Moosehorn National Wildlife Refuge
103 Headquarters Rd., Suite 1
Baring, ME 04694-9703
voice mail: (207) 454-1702
fax: (207) 454-2550
maurice_mills@fws.gov
Manitoba
Marc Schuster
Canadian Wildlife Service/Migratory Birds Division
123 Main Street, Suite 150
Winnipeg, MB R3C 4W2 Canada
voice mail: (204) 983-5265
fax: (204) 983-5248
marc.schuster@ec.gc.ca
Maryland
Hutch Walbridge
Maryland DNR
828B Airpax Road, Suite 500
Cambridge, MD 21613
voice mail: (410) 221-8838 x107
hutch.walbridge@maryland.gov
Massachusetts
David Scarpitti
Field Headquarters
MA Division of Fisheries and Wildlife
1 Rabbit Hill Road
Westborough, MA 01581
voice mail: (508) 389-6377
fax: (508) 389-7890
David.Scarpitti@mass.gov
Michigan
Don Avers
Wildlife Division, MI Dept. of Natural Resources
4166 Legacy Parkway
Lansing, MI 48911
voice mail: (517) 284-4722
aversd@michigan.gov
Minnesota and Wisconsin
Kelly VanBeek
USFWS, Region 3 Division of Migratory Birds
505 Science Drive, Suite A
Madison, WI 53711
voice mail: (608) 238-9333 x31011
fax: (608) 238-9333
kelly_vanbeek@fws.gov
New Brunswick
Kevin Connor
Renewable Resources Inventory
1350 Regent St.
Fredericton, NB E3C 2G6 Canada
voice mail: (506) 457-4861
fax: (506) 453-2930
kevin.connor@gnb.ca
New Hampshire
Jessica Carloni
NH Fish and Game Department
225 Main Street
Durham, NH 03824
voice mail: (603) 868-1095
jessica.carloni@wildlife.nh.gov
New Jersey
Jimmy Sloan
Upland Game Biologist
NJ Fish and Wildlife
1 Eldbridge Rd
Robbinsville, NJ 08691
voice mail: (609) 223-6048
james.sloan@dep.nj.gov
New York
Josh Stiller
Small Game Unit Leader, Division of Fish and Wildlife
NYS Department Environmental Conservation
625 Broadway
Albany, NY 12233-4754
voice mail: (518) 402-8865
fax: (518) 402-8925
Joshua.stiller@dec.ny.gov
Nova Scotia
Lee Millett
Furbearer and Small Game Biologist
Wildlife Division, NS Dept of Natural Resources and Renewables
136 Exhibition Street
Kentville, NS B4N 4E5 Canada
voice mail: (902) 698-9164
lee.millett@novascotia.ca
Ohio
Lyle Fendrick
OH DNR
2045 Morse Rd. Bldg B
Columbus, OH 43229
voice mail: (614) 265-6376
lyle.fendrick@dnr.ohio.gov
Ontario
Kathy Jones
Ontario Programs Volunteer Coordinator
Birds Canada
PO Box 160, 115 Front Street
Port Rowan, ON N0E 1M0 Canada
voice mail: (888) 448-2473 x124
volunteer@birdscanada.org
Pennsylvania
Dan Adams
Bureau of Wildlife Management, PA Game Commission
2001 Elmerton Ave
Harrisburg, PA 17110-9797
voice mail: (717) 787-4250 x73405
daniadams@pa.gov
Prince Edward Island
Matt Ginn
Forests, Fish and Wildlife Division
Environment, Water and Climate Change
183 Upton Road, PO Box 2000
Charlottetown, PEI C1A 7N8 Canada
voice mail: (902) 368-4807
fax: (902) 368-4713
mginn@gov.pe.ca
Quebec
Mathieu Tetreault
Service Canadian de la Faune
Region de Quebec/Environment Canada
1141, route de l'Eglise, C.P. 10,100801-1550, avenue d'Estimauville
Sainte-Foy, QC G1V 4H5 Canada
voice mail: (418) 930-2138
mathieu.tetreault@ec.gc.ca
Rhode Island
Lizzi Bonczek
Upland Game Bird Biologist
Division of Fish and Wildlife Service
RI Department of Environmental Management
277 Great Neck Road
West Kingston, RI 02892
voice mail: (401) 284-3536
elizabeth.bonczek.ctr@dem.ri.gov
Vermont
Andrew Bouton
Migratory Game Bird Project Leader
Vermont Fish and Wildlife Department
111 West Street
Essex Junction, VT 05452
voice mail: (802) 622-4823
fax: (802) 324-4206
andrew.bouton@vermont.gov
Virginia
David Garst
Virginia Department of Wildlife Resources, Region 1
3801 John Tyler Memorial Highway
Charles City, VA 23030
voice mail: (804) 241-5779
david.garst@dwr.virginia.gov
West Virginia
Mike Peters
WV Division of Natural Resources
1110 Railroad Street
Farmington, WV 26571
voice mail: (304) 825-6787
michael.l.peters@wv.gov
| | |
| --- | --- |
| Top of Page | |
Last Updated: Please direct website questions/comments/survey related inquiries to WeblessSurveyCoordinator@fws.gov, USFWS, Division of Migratory Bird Management.